Stop the rain
from stopping your
lift trucks.
The Raingard® is a simple solution that prevents weather from interfering with your outdoor material handling equipment.
It's like an umbrella for your lift truck. A practical and economical way to protect your operators from the rain or sun. It saves time and money because it keeps your lift trucks moving, and your operators stay comfortable and productive.
The Raingard® is custom manufactured to fit your lift truck easily and precisely, without drilling or welding. It consists of three steel panels fitted with safety glass. These panels are assembled and clamped to the truck's overhead guard.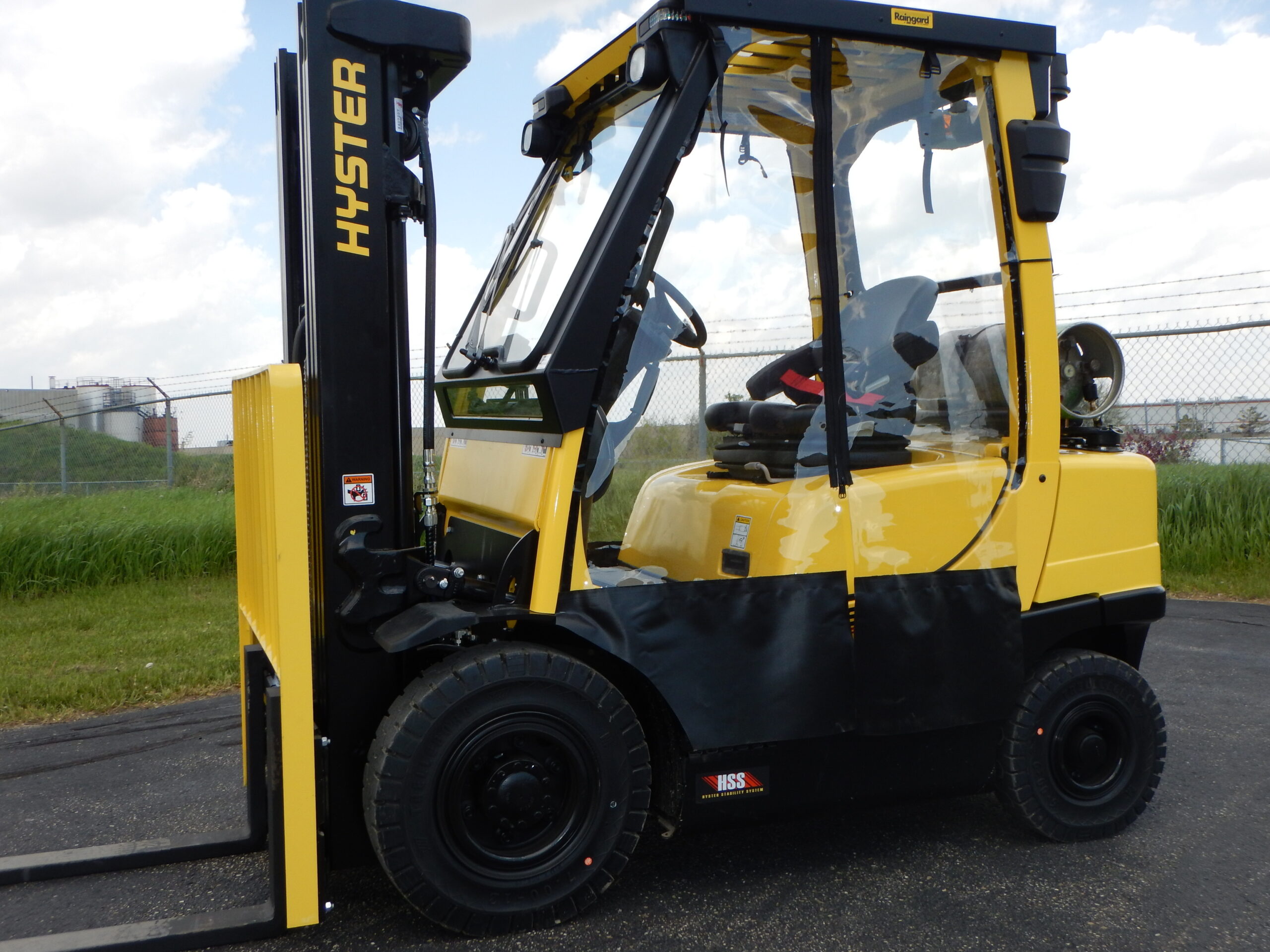 Rugged Panels
The Raingard® consists of three heavy gauge steel panels fitted with tempered safety glass. The front panel offers maximum visibility, and even the heaviest rain is no match for the optional windshield wiper. The roof panel is fitted with skylight glass for upward visibility, and the rear panel has a large safety glass window that can also accommodate an optional rear wiper on some models. All panels are finished in black enamel paint.
Easy Installation
The Raingard® is custom manufactured to fit your particular lift truck model. It attaches quickly and easily to your truck's overhead guard without drilling or welding. Simply bolt the panels together at the roof line and attach the lower clamps or cable ties around the bottom of the overhead guard. The completed Raingard® provides a functional, strong, and safe accessory, further complimenting the appearance of your lift truck.
NOTE: Choosing a product that won't compromise the integrity of your overhead guard means your truck's original warranty stays intact.
Add Vinyl Curtains
For added protection, you can add vinyl side curtains to your Raingard®. These curtains simply slide in the specially formed channels of the roof panel and are attached to the side of the guard using the velcro kits supplied. Trimming is required. With side curtains, your operator is fully enclosed for less than half the cost of a cab with metal doors.
Note: Lower rear vinyl curtains are available as an option on some Raingard® models.
Front/Rear Wipers
A useful accessory for a busy lift truck is a wiper. An optional extra for the front window, or the rear window, it's available for most models. This can be ordered with your Raingard®, or added later.
Packaging
Every Harris Raingard® is conveniently packaged in a sturdy cardboard box and secured to a wooden skid for shipping. Easy-to-understand mounting instructions are included, along with all the necessary hardware for installation.